free village
Portable Ice Maker with Handle Z5822H
[Fast Ice Making in 6 Mins] Experience the convenience of having fresh, chewable bullet-shaped ice cubes with the countertop ice maker. In just 6 minutes, this ice machine can produce 9 ice cubes. With a large 1.26-quart water tank capacity and make up to 26 lbs of ice in 24 hours, you can enjoy many cups of your favorite drinks daily. 

[Bullet-Shaped Ice Cubes] ice machine can make perfectly bullet-shaped and cool ice cubes. These small, round, and smooth ice cubes won't hurt your hands, making them ideal for cooling drinks in small opening bottles. 

[Smart & Simple Operation] The ice machine is designed for user convenience. Its simple control panel makes it easy to operate, and the indicator light will alert you when the basket is full and remind you to add water when necessary. The transparent window lets you easily monitor the ice-making process and also allows you to see how much ice you have available. 

[Automatic Self-Cleaning] countertop ice maker is the perfect addition to your kitchen or office. With its advanced one-touch self-cleaning function, cleaning up is effortless, and your ice is always flawless. Simply press the on/off button for 5 seconds to activate the function and produce cleaner ice. The auto-cleaning function ensures that every iced drink you make is healthy and flawless. 

[Quiet & Portable] Weighing 13.6 lbs and designed with a convenient carry handle, this ice maker is easy to transport wherever you go. Measuring 11.57* 8.74*11.41 inches, it's compact enough to fit in small spaces. Whether you're RV camping, hosting patio parties, or camping in the park, the ice maker lets you enjoy ice-cold drinks on the go. It operates quietly at less than 50 dB, so you can enjoy a glass of chilled whiskey late at night without disturbing your partner's sleep.
Shipping information

Processing Time: 1 - 2 business days
Standard Shipping Time: 2-7 business days
FAQs

Q: Dose the ice maker make transparent ice?

A: Yes but use bottled water or distill water. It depends on the water. Tap water makes white ice.

Q: Is it loud when it's working?

A: Not particularly loud. You hear it when it dumps the cubes into the chamber, but otherwise very quiet.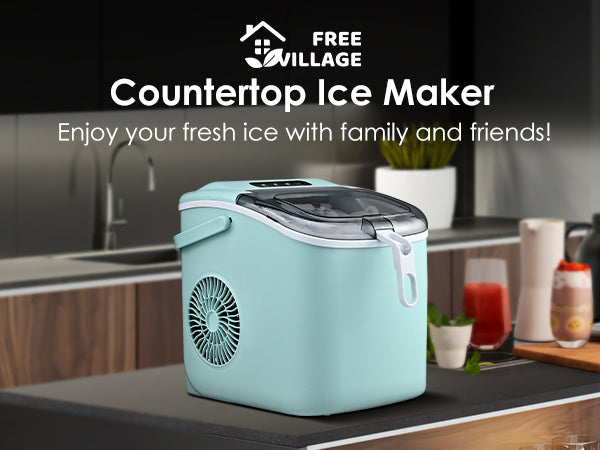 Large Transparent Window
Experience the magic of ice-making with our transparent Ice Tube - no need to lift the lid to see the process!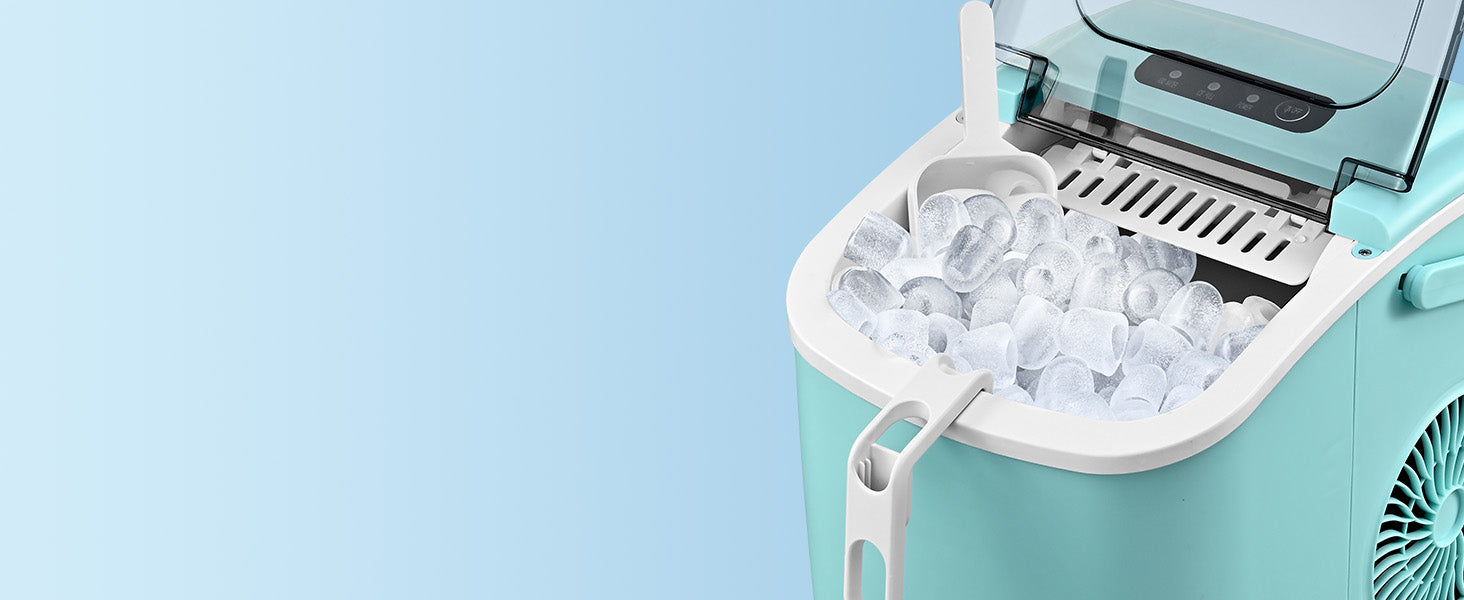 Bullet Shape Ice Cubes
Upgrade your drink experience with our round ice cubes - no sharp edges, better taste, and they can float or sink effortlessly!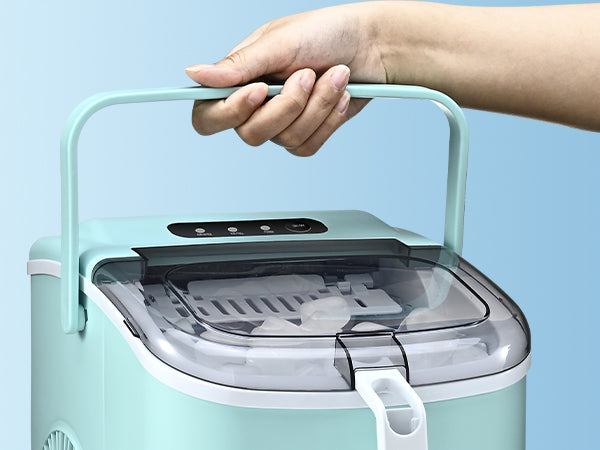 Portable Handle
With its portable convenient handle, moving the Ice Machine Maker Countertop is a breeze - no more struggling to lift and carry heavy ice makers!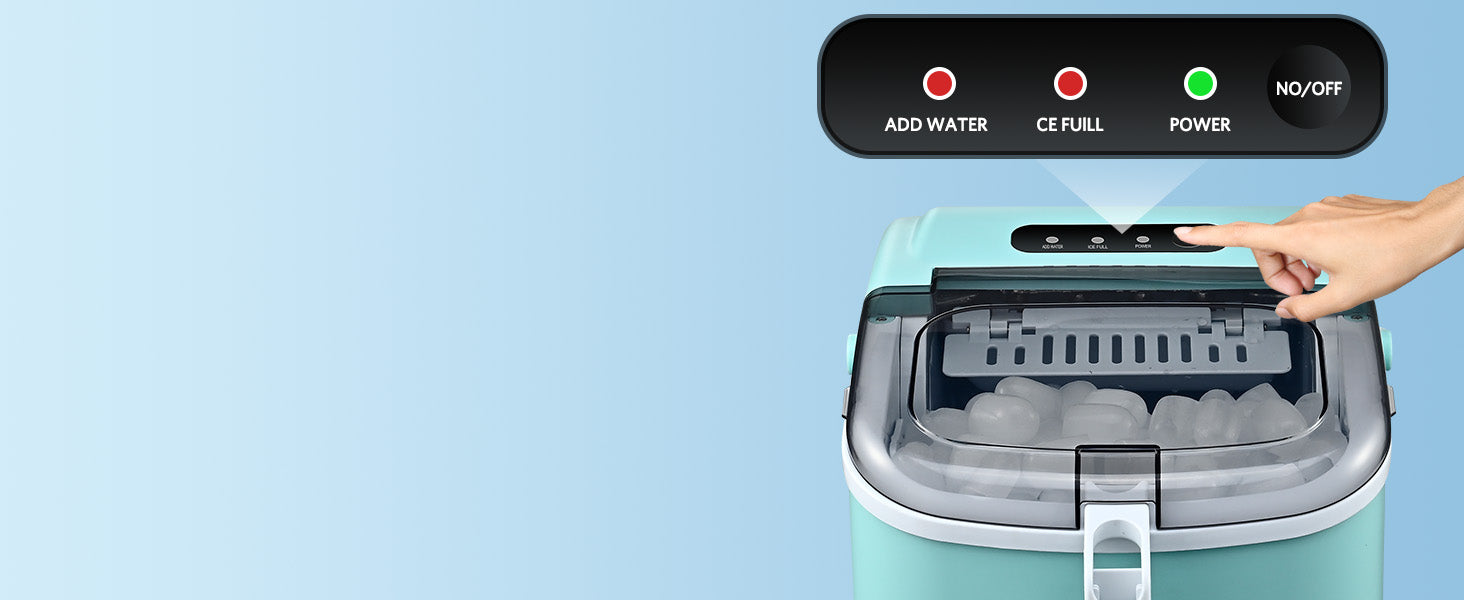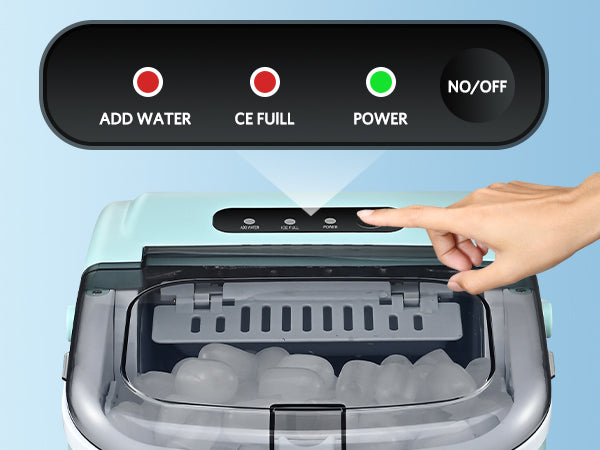 One-button Operation
This user-friendly ice maker features an intuitive control panel and delivers ice in no time. With pure water, you can enjoy crystal-clear ice every time!