FREE VILLAGE
Ice Maker Countertop Z5812C
34 in stock, ready to ship
Features:
2022 New Version - With the upgraded compressor, it only takes 5-8 min to make ice per cycle, and 26.5lbs ice in a day.
Quiet & Durable - The ice maker runs with ultra-low noise. With a quiet cooling fan, it is designed for long-term use.
Self-cleaning Function - Simply start the self-cleaning mode with one press, no need to clean it by yourself basically.
Bullet Shape & 2 Ice Sizes - 2 ice sizes can be chosen. The bullet-shaped ice does not melt easily or stick together.
Portable & Compact Design - The lightweight and portable ice maker is so easy to store or carry. It is widely used.
Specifications:
Dimensions: 13.89 x 9.53 x 13 inches
Weight: 16.75 Pounds
Material: Plastic
Color: White / Black

Capacity: 26.5 Pounds

What's in the box:

Ice Maker
Ice Scoop
Ice Basket
Shipping information

Processing Time: 1 - 2 business days
Standard Shipping Time: 2-7 business days
FAQs

Q: Dose the ice maker make transparent ice?

A: Yes but use bottled water or distill water. It depends on the water. Tap water makes white ice.

Q: Is it loud when it's working?

A: Not particularly loud. You hear it when it dumps the cubes into the chamber, but otherwise very quiet.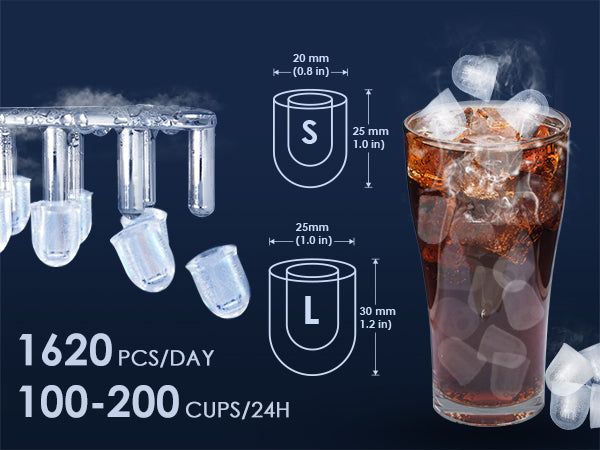 One Touch Operation
The intuitive control panel, even the elder who are not good at smart appliances will use it easily.
Low Noise <45dB
Working in less than 45dB of noise meets all your needs without disturbing reading or sleeping.
Exhaust Cooling System
The exhaust cooling system prevents the ice machine from overheating while working a long time.

Self-Cleaning Function
Simply press the on/off button for 5 seconds to activate the self-cleaning mode, and the ice maker will automatically start cleaning the inside by itself, keeping the machine clean for the next use.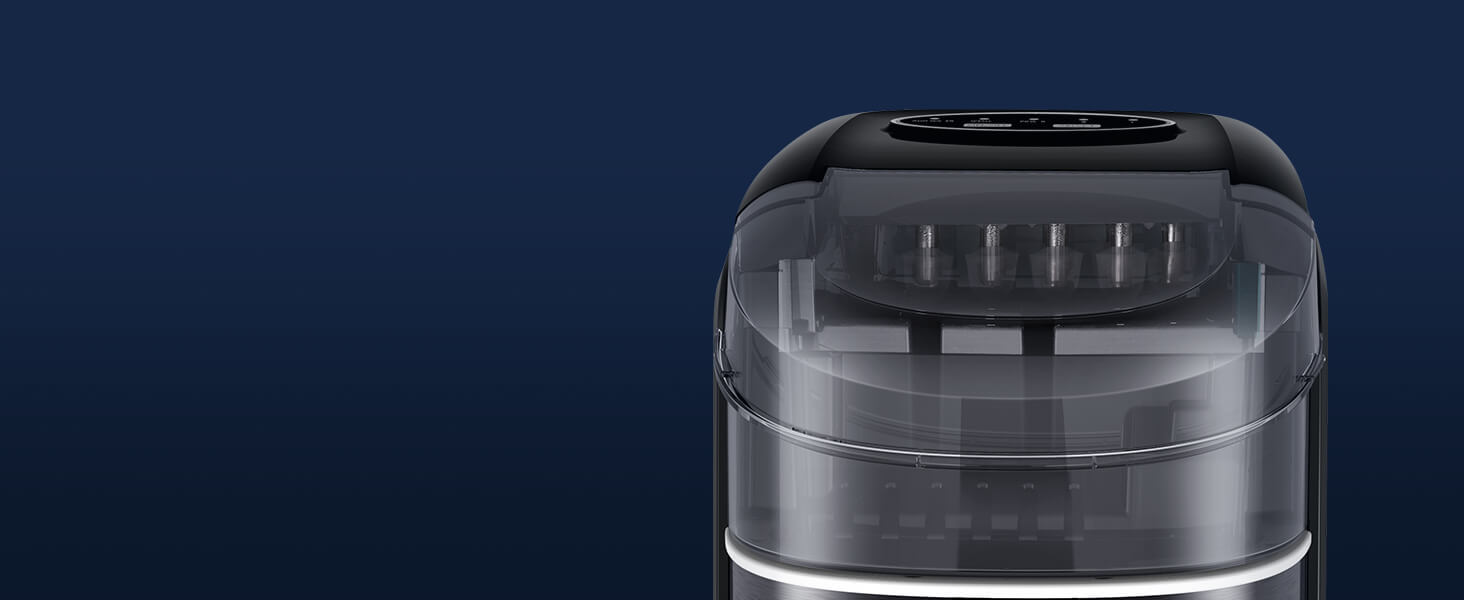 Transparent Visual Window
The unique transparent design allows you to see the ice cube maker's ice-making progress clearly.