free village
Nugget Ice Maker, 44Lbs/Day Z5820DN
48 in stock, ready to ship
Description

[The Speedy Ice Maker Solution] Introducing the ultimate high-efficiency nugget ice maker capable of producing 44lbs of ice daily! Fast ice-making in just 15-20 minutes. The unique appearance of the design allows you to get a full glass of ice at the touch of a button.. Whether it's a family gathering, RV camping trip, or bar, our ice maker machine covers you. Experience the ultimate convenience of having a steady stream of ice cubes at your fingertips!
[Easy to Operate] Enjoy easy, one-button operation with an intuitive screen and bright indicator lights that display the ice machine's status while ice making. The manual water input ensures maximum freshness and quality for your ice. Say goodbye to manual ice crushing and hello to perfectly crushed ice with our top-of-the-line nugget ice maker countertop easily. Perfect for cocktails, smoothies, and more, making it a must-have for any home bar or kitchen.
[Quiet Ice Making] Crush ice with ease and without disrupting your peaceful home environment. Our ice maker machine boasts an impressive noise level of lower than 48dB, ensuring that you can work or rest at home without any disturbance. Whether you are hosting a party or enjoying a quiet night in, Free Village nugget ice maker will exceed your expectations.
[Self-cleaning Mode] Our nugget ice maker countertop is designed with convenience in mind, featuring an automatic cleaning function that makes cleanup a breeze. Simply press and hold the "ON/OFF" button for 5 seconds to activate the automatic cleaning mode, and you're done! No more tedious scrubbing or wiping down the machine.
[Compact Ice Maker] The compact size allows for easy storage, and the durable construction ensures long-lasting performance. Measuring just 10.6 in x 16.9 in x 16.3 in, it's perfect for any countertop or bar. Our portable ice maker is designed to fit seamlessly into any modern kitchen. With its sleek and modern design, this nugget ice maker is sure to impress your guests and elevate any party or event.
Shipping information

Processing Time: 1 - 2 business days
Standard Shipping Time: 2-7 business days
FAQs

Q: Dose the ice maker make transparent ice?

A: Yes but use bottled water or distill water. It depends on the water. Tap water makes white ice.

Q: Is it loud when it's working?

A: Not particularly loud. You hear it when it dumps the cubes into the chamber, but otherwise very quiet.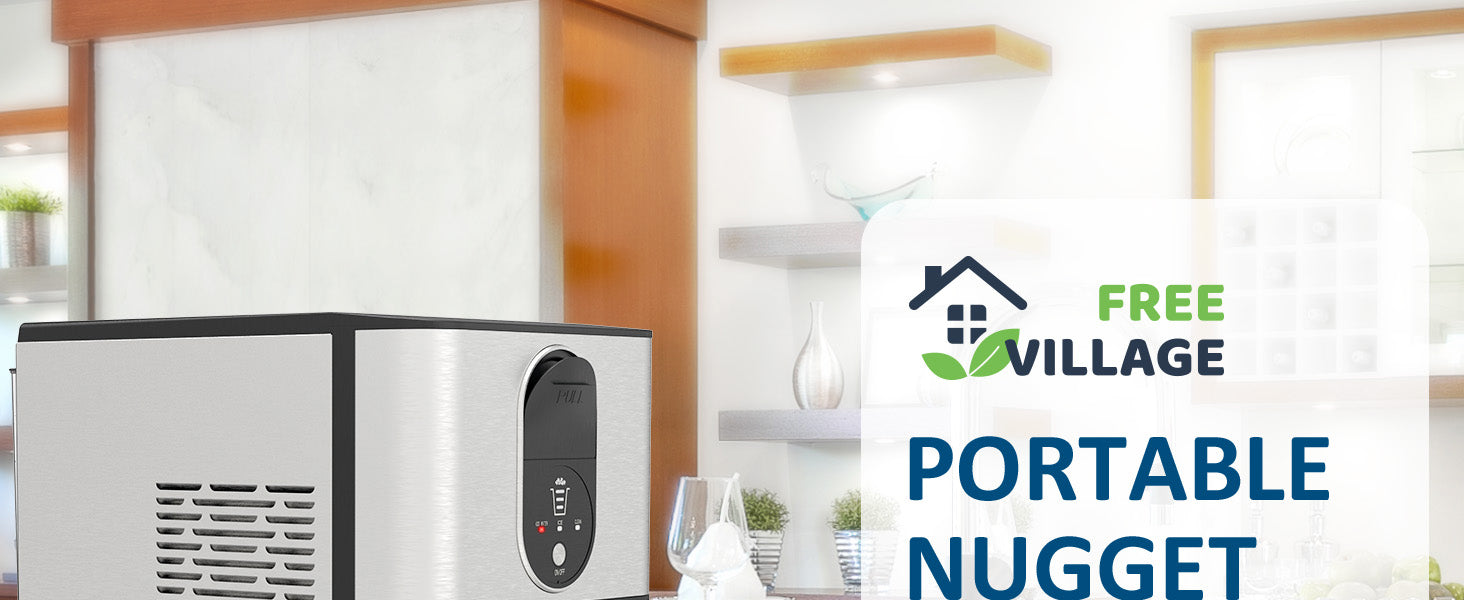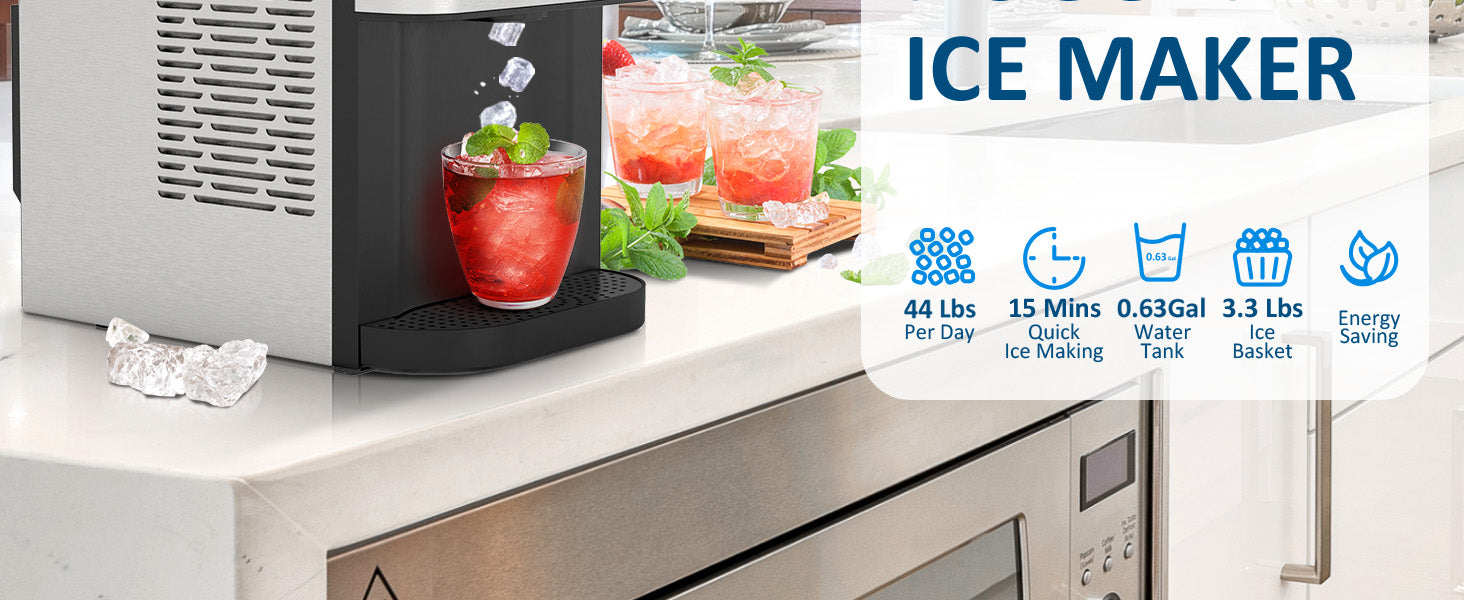 Fast & Efficient
15-20 minutes efficient ice making, with an energy-saving motor, fast while extending the lifespan.



Convenient to Get Ice
Unlike conventional ice makers, our ice maker machine only requires the pull of a wrench to get ice.
Manual Add Water
There are two ways to add water to choose from. Ice comes from you, eat more peace of mind.